Seriously. I know nearly every child thinks they are Grandma's favorite grandchild. When my wife and I first met, she told me this on the way out for her to meet my maternal grandmother. During the ride out there, I looked over at her and told her with all the seriousness in the world: I'm my grandma's favorite. She laughed. She actually laughed at that. Every grandchild thinks that, she told me.
I don't remember what we had for dinner. I don't even remember what I wore that night. What I do remember is that I was giving my three younger sisters a hard time. Rightly so, they grew a little upset with me and all three started yelling at me. Well…you didn't do that to grandma's favorite grandchild. She stood up and snapped at my sisters: You leave him alone! And I just sat there looking innocent.
My soon-to-be wife was aghast. She had thought I had been exaggerating as some people are wont to do. She still tells me over two decades later that she had no clue I had been serious.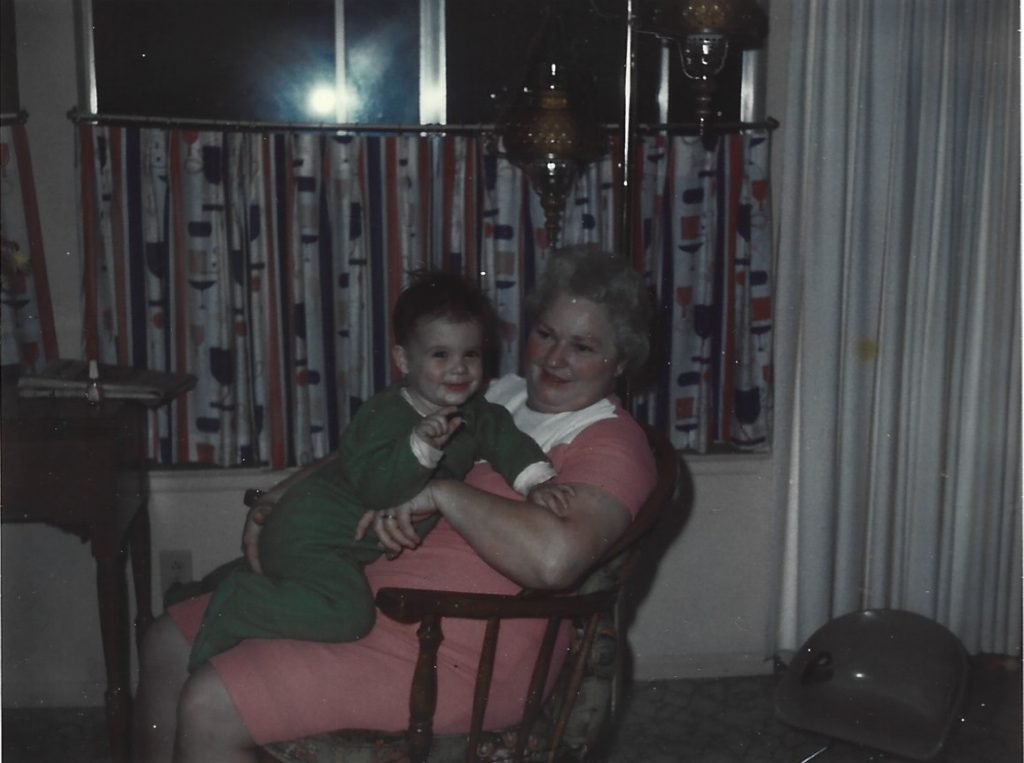 My father served in and retired from the US Navy. During the first five years of my life, he was out to sea a lot. Naturally, my mother would put me in the car and drive from San Diego up to Garden Grove, California where her parents lived. She called her mother Mom. Obviously, I also started to call my maternal grandmother by this moniker, addressing my mother as Mama until she became Mother at about 13. I guess I spent a lot of time with my grandparents. On May 1, 1977, I must have been in church with my grandparents. My little five-year-old self wrote my grandmother a note that said: "To Mom. I no [sic] you love me. An [sic] I love you. From J.C." And as you can see from the picture, my O's in love were hearts, and the periods in my name were spirals.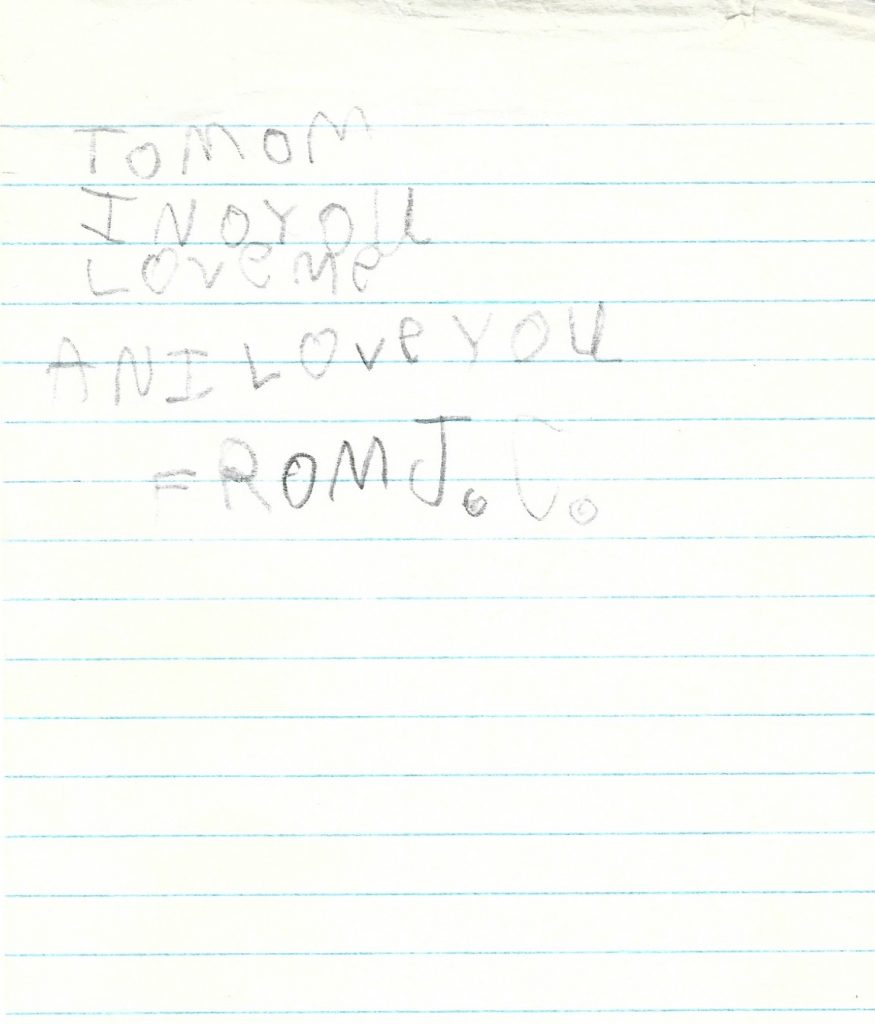 During my high school years, she lived in a trailerhouse not 50 yards from our back door. If I wasn't working or doing chores, I was over at Mom's playing rummy or Yahtzee, or just visiting with her. I would tell her about my day. She would tell me about hers, even though I knew most kids my age were hanging out with their friends every chance they got. This is even after she shut my thumb in the car door when we were getting ready to leave for church when I was nine. I started screaming. She got in on the driver's side and started screaming at me to stop screaming. Then, she realized what she had done. My thumb was unbroken but all kinds of swollen. It didn't make me love her less. Probably more because I could see the torment and anguish it burdened her with to know that she had been the cause of my pain.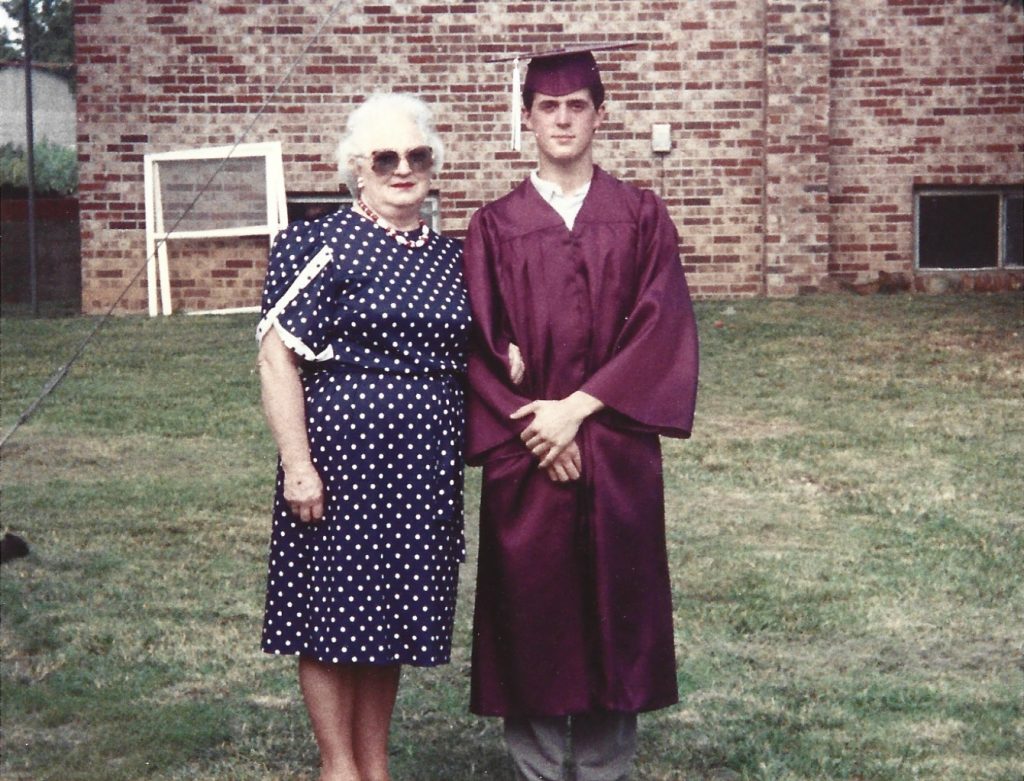 One day last year, I was having dinner with my cousin and his daughter. He was moving her back up to Colorado, so we met for some beer and wings. Our mothers had been sisters, and the conversation eventually moved towards our grandmother. He looked at his daughter and said, "JC was her favorite." I shrugged. Couldn't deny it. When my mother passed a few years ago, another cousin (the eldest child of my mother's other sister) came over from Tennessee. Sitting in the living room of my youngest sister's house, the converation eventually moved towards our grandmother. My cousin looked over at me and said, "You were always grandma's favorite." I shrugged. Couldn't deny it. My wife chuckled. Before that day, she had never met this cousin.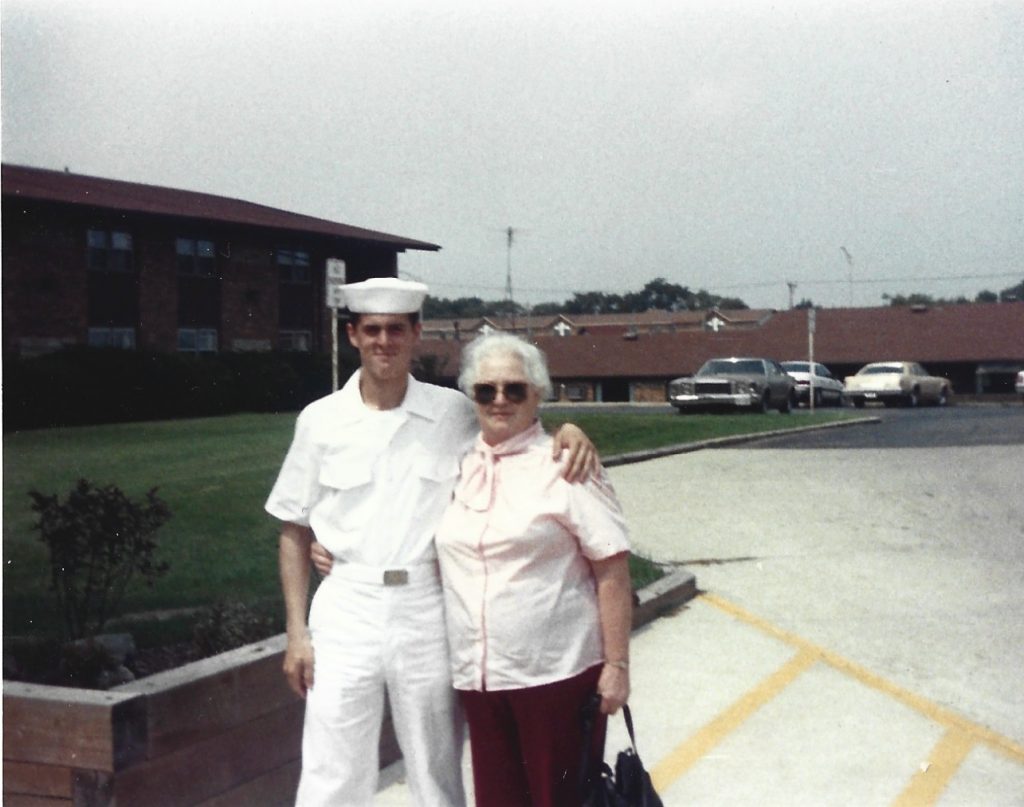 Mom was my buddy. In high school, I was a bit of a clothes hound. Every morning, I would trudge over to her house rain or shine to get my shirts ironed. One day, she looked at me and said, "It's time you learned how to iron." I never did homework. I spent too much time playing rummy or Yahtzee with Mom. Whenever my parents would ground me or get after me, it was Mom that had my back and would negotiate a lesser sentence for me.
When I had married the wrong woman too young in my life, I didn't want to tell Mom that the woman and I were bound for divorce. She was traditional. After my grandfather passed away, she wore her wedding ring for another 16 years until the day she died. The day I finally let her know the news—it took a while to get up the nerve because I didn't want to disappoint her—she actually smiled. She grabbed my shoulders in her hands, squeezing, and said, "Thank, God." I realized that she just wanted me to be happy.
I remember the day she died vividly in my mind. My wife and I were in Miami, Oklahoma so she could get the first ultrasound done on our second child. Mom had been in the ICU back in Springdale, Arkansas, and I told her that we were going to find out the gender and would call to let her know. The moment we discovered that we would have a son, the tech's beeper went off. I looked at my wife and said, "It's Mom." He called the number, and told me I needed to contact my family. They told me that Mom had passed away. But not before one of my sister's had told her that I would be having a son.
Mom was probably my best friend in my childhood. I really was her favorite grandchild. She was a great influence in my life.