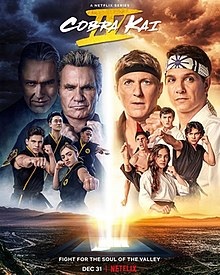 Back in 2018, I heard about this show called Cobra Kai coming out on YouTube's subscription service. The prospect intrigued me. During my high school years, I enjoyed all three Karate Kid movies—even though I didn't get to see the third installment until after I had graduated US Naval basic training in the summer of 1989.
The films sit on the shelf of my questionable memory as feel-good movies. I even enjoyed the remake with Jackie Chan filling Pat Morita's role and Jaden Smith in Ralph Macchio's spot.
To be honest, I had some reservations about Cobra Kai. How could they bring this franchise back and do it proud? Daniel LaRusso—played by Macchio—opens the film as a poor kid from New Jersey. He enrolls at a new school in California attended by spoiled rich kid and bully Johnny Lawrence—played by William Zabka.
Cobra Kai set everything on end. LaRusso owns a successful car dealership with his wife, while Johnny Lawrence spends his time recovering from drinking binges and trying just to get by. A total reversal of fortunes. But what really stood out for me was the fact that the series depicts life as not always being greener on the other side of the fence. There is trouble in paradise.
I'm not going to give away any spoilers. The series is campy and humorous, not attempting to hold on to the dramatic tension of the movies. Which works. And it works well. It doesn't try to take itself too seriously. But don't get me wrong. There is plenty of drama.
I finished the latest fourth season a couple of days ago and was very happy with the results. Though I predicted the winners of the All-Valley Karate Tournament in the final episode by the fifth of ten, my daughter could not. It's just the way I would have written it. But there is a little detail at the very end concerning the tournament that I did not predict. You'll have to watch it to learn what it is.
This was a good series. I didn't binge watch it because I have a lot of other stuff that needs to get done. But it was a great series to watch an episode a night or every other night. I finished it in two weeks and look forward to the fifth season—which was already renewed three months before the fourth season premiered.
Nostalgia is not bad thing. And with the show moving to NetFlix from its third season, it is more accessible. I hope more people enjoy it as much as I have.