You have probably heard it said that you are only as old as you feel. What about being only as old as we let ourselves be? That's more in line with how I feel. I don't recover as quickly as I once did. Soreness seems to last longer. If I don't sleep right (or enough) or if I eat the wrong stuff, my body doesn't cooperate as well as it once did.
So, I'm getting older. That's a fact of life. I can talk about the degradation of telomeres at the end of chromosomes going from 11kilobases at birth to 4 in old age and how that is theorized to be linked to the aging process. But that's almost as boring as it sounds. Instead, I want to talk about defying the process.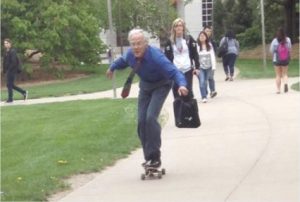 As I approach my 48th birthday, I have started wondering if it is too late for me to take up skateboarding. Why not? It might be a little out of place seeing a middle-aged man zipping through the skate park rather than sitting on the bench watching his children or grandchildren. But is there an age limit on the activity?
Hulda "Grandma Whitney" Crooks climbed the highest mountain in the contiguous United States for the first time at age 65. She made the ascent up Mt. Whiney 22 more times by the time she turned 91—the age at which she also became the oldest person to summit Mt. Fuji in Japan.
She never even took up climbing until her 54th birthday. She set a world record for the 80 to 85-year-old age group in the Senior Olympics for the 1,500-meter race when she was 82. Age didn't seem to stop her, and she even eclipsed the century mark when she passed away at 101. One of the summits to the south of Mt. Whitney has been named in her honor.
Using Grandma Whitney as an example, I cannot see how 47 is too old to take up skateboarding. I think I'll just need extra padding with my gear. Who knows where I need to go to start this process?