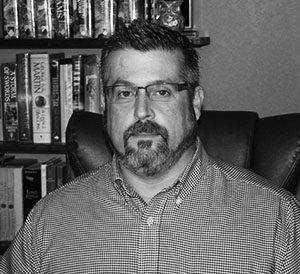 Some are born with a silver spoon, but award-winning author JC Crumpton came out of the womb with a pen and a notebook. A cancer survivor, when not writing, reading or working as an analyst, he will often be on the trails or in the gym training for an ultra-marathon or powerlifting-complete with grunts and screams in appropriate places-or volunteering for various charities.
Growing up in a range of places from San Diego, California to Iceland and Germany, JC has a broad palette of experiences to utilize in his writing. He has held a myriad of jobs, including fry cook, telemarketer, soccer coach, substitute teacher, and sales analyst, making him a confused if well-rounded person. He received his undergraduate degree in English with a Creative Writing Emphasis from the University of Arkansas and worked seven years for a daily newspaper, compiling a list of over 1,000 bylines.
Silence in the Garden is JC's first published novel. More of his work has appeared in Aiofe's Kiss, Beyond Centauri, The Penwood Review, and Saddlebag Dispatches, among others. He has several projects coming out with Pro Se Press and Oghma Creative Media. He is a proud member of Authors' Anonymous writing group, the Northwest Arkansas Writers' Workshop, Storytellers of America, Ozarks Writers' League, and Ozark Creative Writers.