I mentioned before that I would like to read an author I've not read before each month this year. So I decided to add some other things to that list. This year, I plan to read a book by an author I've not read before, read a classic, and read a non-ficiton. Should I have availabilty through the rest of the month, I will work on completing several series that I have unfinished.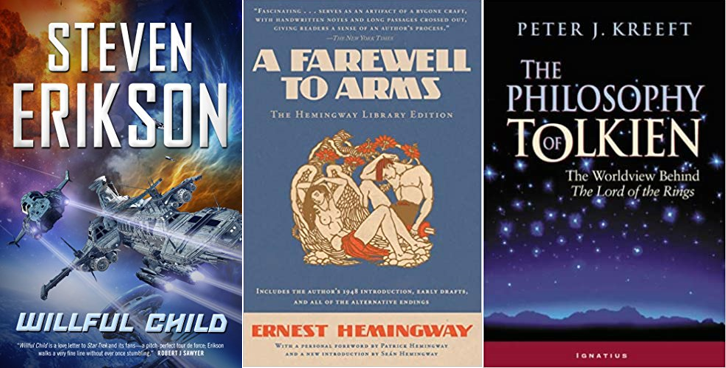 NEW AUTHOR: Steven Erikson. Well-known writer for his 10-book Malazan Book of the Fallen series. Which I have not yet started in spite of several people being on my case about not reading it yet. I do not typically read humor, but Erikson's Willful Child was funny. It entertaining, and I loved the spoof treatment it gave Star Trek, but I just do not read a lot of humor. Because of that, I doubt I will be finishing the trilogy. But I do have the first three books of his reknowned fantasy series on my shelf and will be getting to those within the decade. Hey…I have a lot of books to read.
CLASSIC BOOK: Ernest Hemingway wrote my all-time favorite book The Old Man and the Sea. Even though it had been assigned to me as part of a class for my degree in English, I could not get through For Whom the Bells Toll. That made me ignore the rest of his works. I decided to fix that by reading his semi-autobiographical A Farewell to Arms. My maternal grandfather, an English teacher, had an old copy from 1957 with a reprint of Hemingway's signature on the blue denim cover. I am two days into it and am still enjoying it.
NON-FICTION: The Philosophy of Tolkien by Peter J. Kreeft is a look at the influences upon Tolkien and of his work.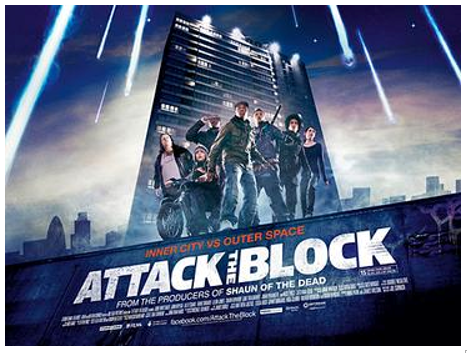 WATCHING: We thought about renting an On Demand movie this week, but then the cheap bastard in me came out. As such, we decided to watch a "free" movie on one of the streaming services for which we are already paying. I have been hearing about the movie Attack the Block on science ficiton forums for many years now. Aliens picked the wrong neighborhood to invade. Great movie. Laughed out loud on more than one occasion.
Everyone take care. Remember: Don't let anyone writer your future for you.